- 10.10: (again) some news about Ceremony & merch stands.

- Last news in stock (15.10.2019):
CDs neufs/new: MISTHYRMING, CARPATHIAN FOREST, ANTAEUS, DEATHSPELL OMEGA, SEKTARISM, SATYRICON, AUBE, DARKTHRONE, SHINING, TAAKE, KVIST, ISENGARD, AURA NOIR, TOTAL HATE, PEST, LIK, LORD KETIL, HATS BARN,  INSANITY CULT, ARCHEAN, GOATFUKK, ERAZOR, 359, GENOCIDE, DESERTED FEAR, ASMODEE, HEAVYDEATH, MALHKEBRE, FARULN, KALMEN, CROM DUBH, SOYUZ BEAR, SATURNUS TERRORISM, FERRITERIUM, ARKAIK EXCRUCIATION, TAUTHR, DEFRAKTOR, NECROS, WOODS OF INFINITY, LIK, ZARATHUSTRA, BEASTMILK, DETHRONED CHRIST, WARFIST, BELPHEGOR,...
CDs occaz/second hand: AGALLOCH, SATYRICON, ESCARNIUM, CRUZ, BLACK EMPIRE, CARPATHIAN FOREST, LICH ERLISCHT..., DARK STORM, CULT OF THE HORNS, TORRENT, VINTERRIKET/ORODRUIN, BEHEADED LAMB, DEPRAVITY, VITAL REMAINS, DISGUISE, INFER, HEADCAT, THERION, BEWITCHED, DAPNOM/EWE/STIGMA DIABOLICUM, TUNRIDA, CARCARIASS, GOREFEST, AMAROK, BORKNAGAR, KOLDBORN, SENTENCED, GRAVELAND, STURMGEIST, THE END 666, VINTERSORG, PLAGUE BRINGER, SPECTRUMS OF OBLIVION, ACEDIA MUNDI, WOLFSMOND, VADER, FLUISTERWOUD, HECATE ENTHRONED, FALL OF THE BASTARDS, STALLAGGH, MYRIADS, FROST, HELLFUCKED, NAGAARUM, ...
K7: FUNERAL CURSE, DISFUNERAL, IRON KOBRA, INFERNAL BOOZER, CHAINSAW KILLER, ...
vinyls: PERDITION TEMPLE, BOSSE-DE-NAGE, BLOODLINE, IMMORTAL, BURZUM, ANTAEUS, KATHARSIS, BLESSED IN SIN, STUMM, WRATH OF THE WEAK, CARNE, A DIADEM OF DEAD STARS, RITUAL KILLER, STARVE, EARTH AND PILLARS, ...
merch: AUSTERE, URFAUST, INFAMY, GOATH, FROZEN STORM, NIGHT (Fr), OLD BLACK, blasons régions, FORGOTTEN WOODS, MONARQUE, PARADISE LOST, THRÄNENKIND, ... 

- 24.05.2019: Out now by Black Pandemie Prod and in stock ! INFAMY TS one face (yellow on black), size S to XL,
hight quality, screen printed in France, strictly limited to 35 handnumbered ex.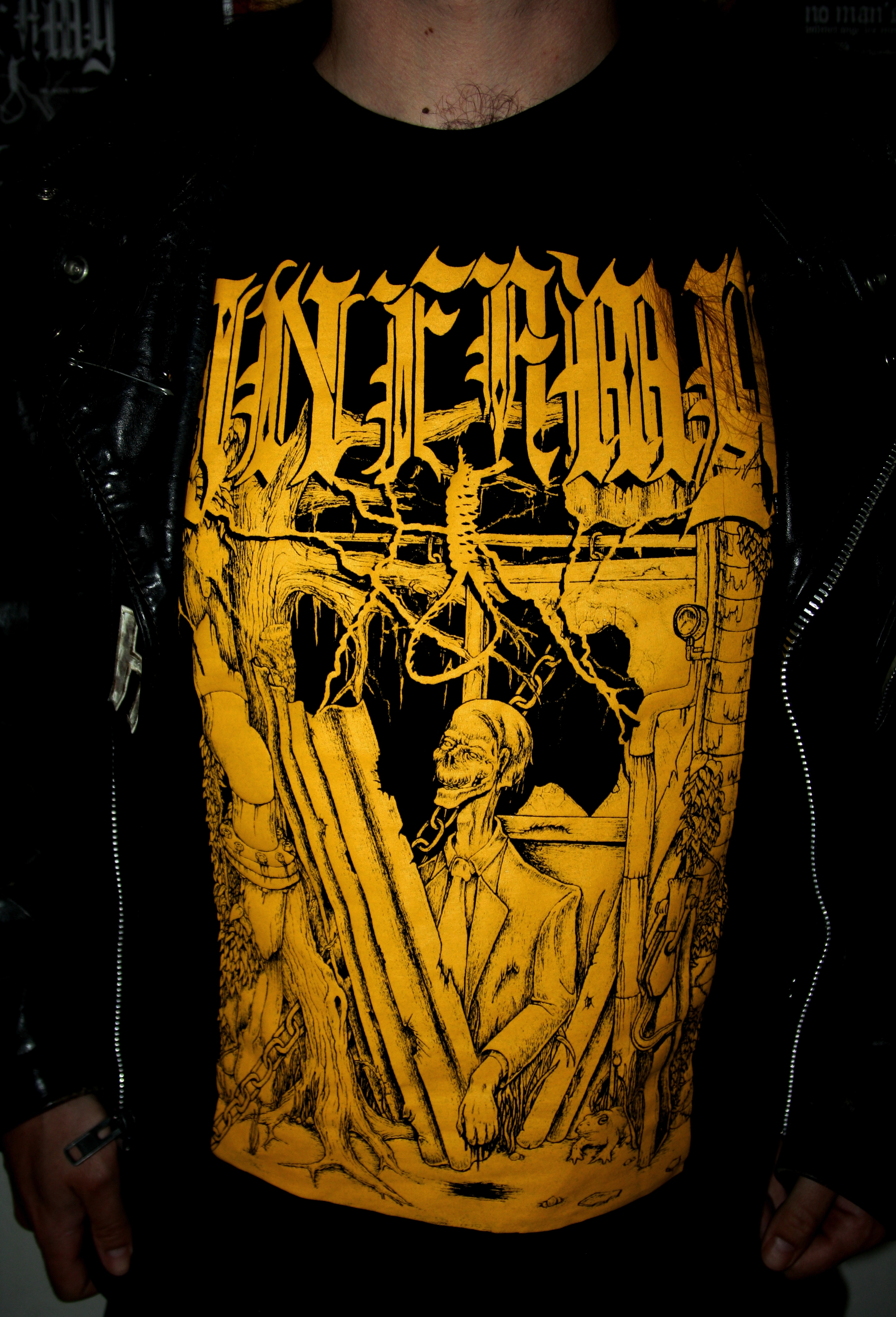 _________________________________________________________________________________________________

Discogs: ***     
FB: Black Pandemie Prod
Cette adresse e-mail est protégée contre les robots spammeurs. Vous devez activer le JavaScript pour la visualiser.
                                                                     
Black Pandemie Prod'                                                                                         Distro, prod', concerts, since 2009.     
23 rue Paul Diacre                                                                                       Label indépendant, association loi 1901.
57000 Metz - France                                                                                                     Siret: 825 195 076 00013
                                               
                                               [ E.H. 1986-2009, At Life, at Death, Lost, Eternal, ... ]
_________________________________________________________________________________________________

logo: Ars Goetia Design